Approximately 3.6 million people in the United States use wheelchairs according to the Census Bureau. That's over 1 percent of the population. Two million Americans past age 65 use wheelchairs regularly.
Among the conditions that lead to wheelchair use are
spinal cord injuries;
frailty syndromes;
amputated legs;
cerebral palsy;
multiple sclerosis; and
muscular dystrophy.
Other disorders that may affect movement - arthritis and osteoporosis, for example - can also result in wheelchair dependency.
Chairdex is a website about wheelchairs. We describe the types of chairs, the history of wheelchairs, and common accessories. There are many exciting developments in wheelchair design going on now. Wheelchair athletes have formed a thriving community and we also present resources for people who use wheelchairs. Further, we discuss the effect of the Americans with Disabilities Act on design of facilities to accommodate wheelchairs.
Challenges
People who use wheelchairs face challenges not only in finding a suitable chair, but also in navigating their chairs through the built environment. Many buildings are not accessible, making it difficult or impossible to get into and around in if you are in a wheelchair. Even buildings that are advertised as accessible may not actually be so for a wheelchair user. And traveling outdoors is hard during inclement weather: ice, snow, and slush make wheelchair use exhausting and can leave the user wet and cold. Driving is feasible for some, but it poses challenges.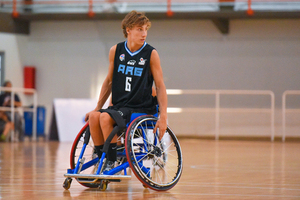 Increased awareness about disabilities along with architectural and technological changes can lessen obstacles and make it easier for wheelchair users to go about their daily lives.
Sizes of Chairs
The following data is true to the best of our knowledge. Contact the manufacturer or a dealer to confirm.
| Wheelchair Category | Chair height | Weight Capacity | Seat width | Seat depth |
| --- | --- | --- | --- | --- |
| Steel Transport Chair by Invacare | 19" | 250 lbs. | 17", 19" | 16" |
| Excel Freedom Transport Chair | 18.8" | 300 lbs. | 19" | 16" |
| Invacare 12" Rear Wheel Transport | 19.25" | 250 lbs. | 19" | 16" |
| Lightweight Aluminum Transport | 19.25" | 250 lbs. | 19" | 15.5" |
| Steel Transport Chair by Drive | 19" | 300 lbs. | 17", 19" | 16" |
| Fly-Lite Transport Chair | 18" | 250 lbs. | 19" | 15.5" |
| Expedition 12" Rear Wheel Transport Chair | | 300 lbs. | 19" | 16" |
| Plaid Transport Wheelchair | 18" | 300 lbs. | 17", 19" | 16" |
| Removable Armrest Transport Wheelchair | 19" | 300 lbs. | 17", 19" | 16" |
| Karman Removable Arm Transport Chair | 20.5" | 250 lbs. | 19" or 17" | 16" |
| Karman S-115 Ergonomic Transport Chair | | 250 lbs. | 16" , 18", 20" | 17" |
| Excel Deluxe Aluminum Transport Chair | 18.8" | 300 lbs. | 19" | 16" |
| Excel Ultralight (19 lbs.) Aluminum Transport Chair | 18.8" | 300 lbs. | 19" | 16" |
| Karman Ultra Light Reclining Transport Chair | 19.5" | 250 lbs. | 18" or 16" | 18" |
| Excel Translator Transport Chair / Rollator | 19" | 250 lbs. | 19" | 16" |
| Wheelchair Category | Chair height | Weight Capacity | Seat width | Seat depth |
| --- | --- | --- | --- | --- |
| Karman MVP Reclining Transport Wheelchair | | 250 lbs. | 20" | 16" |
| Two-in-One Rollator and Transport Chair | | 250 lbs. | | 16" |
| Karman 12" Rear Wheel Transport Chair | 19" | 250 lbs. | 19" | 16" |
| Deluxe Fly-Weight Transport Chair | 19" | 250 lbs. | 17",19" | 15.5" |
| Excel 3000 Convertible Manual Wheelchair | 20" | 300 lbs. | 18" | 16" |
| Foldable Lightweight Travel Chair | | 250 lbs. | 18" | 15.5" |
| Bariatric Transport Chair | 19.5" | 300 lbs. | 22" | 16" |
| Stowaway Lightweight Folding Transport Chair | | 300 lbs. | 17" | 16" |
| Super Light Folding Transport Chair with Carry Bag | 19" | 300 lbs. | 18" | 16" |
| Travel Companion™ Lightweight Wheelchair | 20" | 250 lbs. | 15.5" | 16" |
| Airgo Navigator Rollator/Transport Wheelchair | | 250 lbs. | | 17" |
| Foldable Lightweight Travel Transporter | 18.8" | 300 lbs. | 16" | 16" |
| Karman 19 lb. Ultra Light Transport Chair | 19" | 250 lbs. | 19" or 17" | 16" |
| Lightweight Transport Wheelchair | 19" | 250 lbs. | 17",19" | |
| Duet Transport Chair and Rollator in one | 21" | 300 lbs. | 12" | 12" |